Reasons why i love friendster
Oh its sucky old tuesday. WoW is down for maintence and thats the only free time i can pull my ass up to blog :P.
Reason 1: IDIOTS KEEP COMING BACK.
Remember that post which is dedicated to a guy who keep adding girls? Singapore girls are kind and i haev evidence to back my claim. Remember that loser who has 3 accounts full of girls? Rofl apparently he CHALKED up to 6 accounts of girls. Singapore girls sure are kind online! When someone with his face approached them in orchard for their number, they will go like WTF NO U LOSER GG NO RE. Then that loser will be broken hearted rofl. But in favour of him, ther'es something called cyberspace! Where girls are kind and u would have abt 50% less risk to be rejected/called a loser! With great luck, one of my girl fren(not gf) knows him ROFL. Guess what? She hates him HAHA. DIE LOSER DIE. He even go jio her and all those rubbish. AND U KNOW WHATS THE BIGGEST JOKE SHE TOLD ME? He actually think he's HANDSOME. HAHAHAHA. Eh i'm not being mean ok! I dont mind if its a honest chap and i wont laugh at him!. BUT THIS LOSER? Ok nuff said lets show his pic.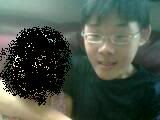 The cousin has done no harm and therefore i shall not expose her.
Handsome or not? PUI. EHHH I THINK I EVEN LOOK BETTER THAN HIM. If he isnt a thick skinned loser , i wouldnt have post his pic GG. U post it on friendster to show everyone i'll help u advertise ur sexyiness by posting ur pic on my blog. CRY MORE LOSER
Reason 2: How idiots lie/hate themselve
This is really damn funny. I laughed until my balls almost dropped out. His profile goes like this:
(Hates)
Studying
Backstabbers
Cheaters
Smokers
Drinkers
Idiots
GET YOUR ASS OFF IF YOU ARE ONE OF THE THINGS THAT I NAMED IN THE HATES
Notice the last one LOL I bolded that. No seriously. He should know he's hating himself . Thats kind of sad and it leads to depression. How do u get ur ass out of urself? I would like to know. It would be useful in the future *wink*
reason 3 : Idiots who think big of themselves
Another part of his profile:
Note:Wont reply to any messages..so u drop any messages,i delete w/out reading..dun care it is important or not.
ROfl u think anyone will message to a loser like u? I think u receive too much hates mail thats y u put up this sentence. U're just too scared to scare away the girls by telling the truth. Which girl in the right mind would message u anyway? Only mail i can think of is:
"HI LOSER GO DIE PLS THX BYE!"
Reason 4 : How losers show their losers quality
Who I Want to Meet:
My one and only princess...i believe that day will come to me as long as i wait..Wont mind me too ugly,too poor..love me from the bottom of her heart..Wont leave me to whatever i change to what looks,cannot buy things that she likes...but i will promise her if she reli like the things i will try my very best to buy it to her..i will make her the happiest girl in the world.
Hope can see my wei ru in real person..then i really happy liao..=)Bolded
. No seriously. U have ot resort to online to find ur gf? ROfl u must be a lonely guy. GG Have some social life and dont sit on the com waiting to find ur future wife.
WWW.Onlinematchmake.com
GOGO! Obviously u have some low IQ OR??! Who the world in the right mind tells so honestly. WoW u must be a honest man. But then again. idiots have a weird mind.
Yup idiots like this thrive to make friendster more popular and a better place. Here's his account btw :D
http://www.friendster.com/user.php?uid=22969604
. Friends of his nt happy?TOO BAD! THE WORLD IS UNFAIR TOWARDS IDIOTS